Tripura Tourism reaching new heights, Paragliding trial ride successful in Jampui Hills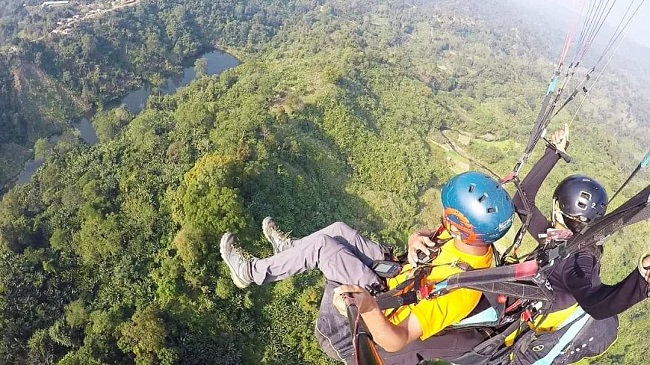 Agartala, Jan 13: Tripura Tourism is gradually strengthening its wings to attract more tourists by introducing new facilities, with a focus on adventure tourism.
The present BJP-IPFT government laid special attention on the Tourism sector considering the social, cultural and economic values of the tourism industry.
Tripura has always been a preferred location for nature lovers but lack in positive approach and promotional activities on the part of previous government, this industry had to suffer a lot. But, in today's changed scenario, the Tripura Tourism is now reaching new heights with proper plans and management.
Chief Minister Biplab Kumar Deb is personally taking interest to develop the Tourism sector following which paragliding in Jampui Hills has been made possible within a short period of time from the introduction of water scooter ride in Narkel Kunja, one of the important tourist locations of the state.
The solo ride of Paragliding (with pilot) from Behliangchhip, Jampui Hills in North Tripura has been successful and the formal inauguration would take place very soon.
While Tripura's traditions, culture, archeological history, natural beauty and biodiversity always provide a charm to the tourists, initiatives like adventure tourism are expected to attract more tourists. According to official sources, a plan is now in the pipeline to introduce Paramotoring facility in three other important tourist destinations- Dumboor, Neermahal and Chabimura.
On the other hand, as Tripura is going to have international flight and rail connectivity with Bangladesh, it would increase the tourists' flow in the state and open new avenues for employment generation.