Tripura CM asks nurses, other staff to be empathetic with patients and their families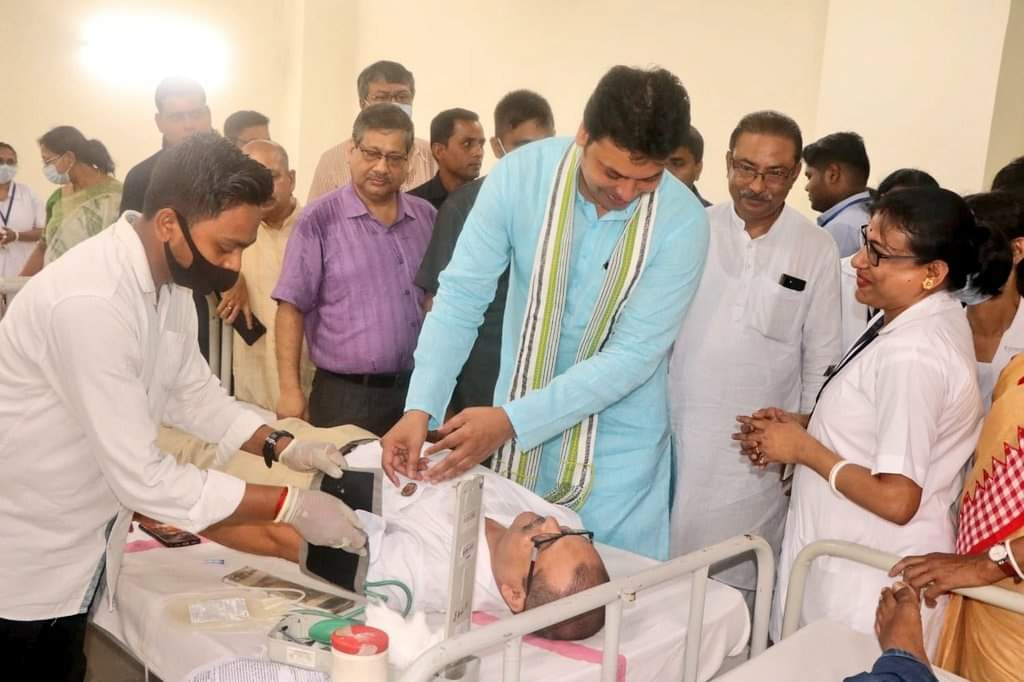 Agartala, May 11: The nurses and others staff including the security guards in healthcare services need to behave with the patient and their family members with empathy, said Chief Minister Biplab Kumar Deb.
He was speaking at a blood donation camp jointly organized by Vivekananda Vichar Mancha and Nursing Staff at IGM hospital on Wednesday to mark National Nurses Week- 2022.
According to the Chief Minister, if the nurses and other health staff behave well with the patients from the beginning of hospitalization, it would not only make the patients mentally strong and build confidence among them but also help deliver best healthcare.
Deb said, "the nurses-- both male and female-- along with others in the hospital have to be empathetic with the patients and their family members. I want one day the l Prime Minister to say in his Mann Ki Baat program that the nurses of Tripura do the best work in the country."
Deb said, advanced health services and decentralization of infrastructures are ensuring healthcare including treatment of various complex diseases up to the district and sub-division level.
Availability of advanced treatment facilities in Tripura is significantly reducing the number of referral cases and helping the people of the state save their medical expenses, Deb pointed out.
"In my view, all the doctors and health workers in Tripura are the best in their respective fields. The credit for every achievement in the health services goes to them", the Chief Minister said.
Around 100 people including Nursing students have donated blood in the camp. Among them, many of the students were first-time blood donors. The Chief Minister encouraged everyone to generously donate blood and save lives.