Ready to tackle coronavirus outbreak says Tripura CM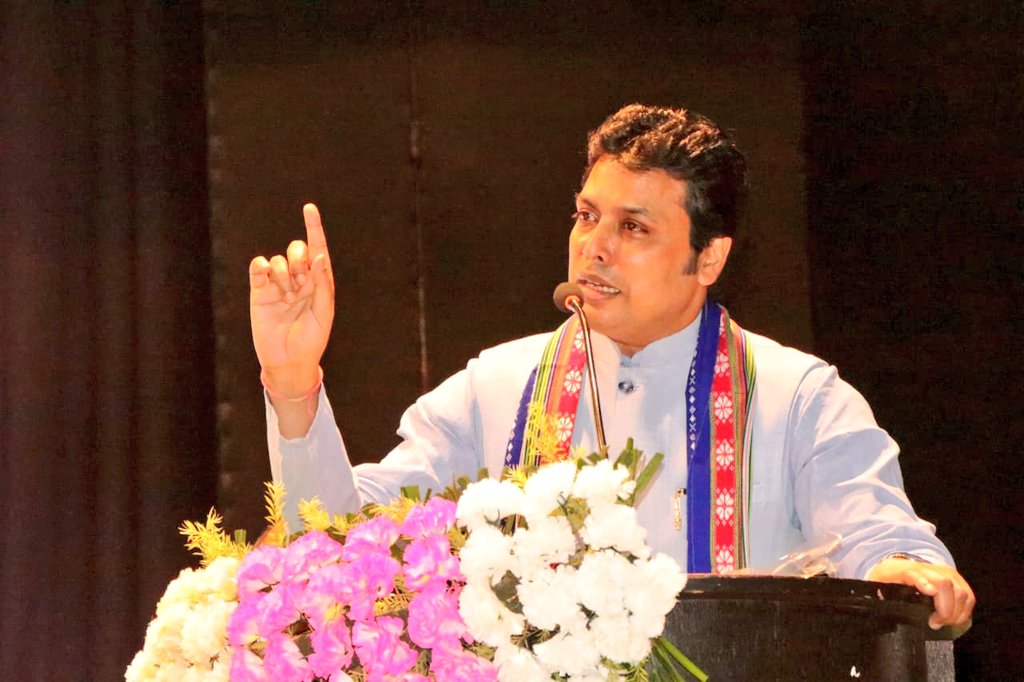 Agartala: Jan 11. Chief Minister Biplab Kumar Deb has assured the people of Tripura that the state government is ready to deal with any situation. Just extend the hand of cooperation like the first and second wave. 
"The Tripura government will deal with the third wave of corona together. The price hike will not be tolerated on the pretext of night curfew or increase in the corona cases. Tripura has adequate material reserves. The black market will be cracked down on," CM Deb said. 
He also assured that about 20,000 beds would be provided to the corona victims in Tripura soon.
In a live video the Chief Minister said, the Tripura government has dealt with the first and second wave of Coronavirus with the cooperation of all. The third wave is affecting the daily life of the people from the very beginning. He demanded that once again we will face the third wave of Corona.
He said the health infrastructure in Tripura has already improved a lot. Recently, some restrictions have been imposed to increase the incidence of coronavirus cases. 
He has given maximum importance to wearing masks. Citing experts, the Chief Minister said that it is possible to prevent corona infection by wearing masks.
He said the current infection rate in Tripura is 7.09 percent. Clearly, corona infections are spreading rapidly in the state. Therefore, it is very important to take precautions in advance. His request is, do not go to crowded places, sit as far as possible in the car and make sure to wear 100 percent masks. Only then will it be possible to prevent much of the infection, he asserted.
He informed everyone that Tripura currently has adequate infrastructure to deal with the corona outbreak. He claimed that there are 22 oxygen plants, 1,729 oxygen concentrators, 2263 oxygen cylinders, 2391 pulse oxygen meters and 193 ventilators in Tripura. Also, there are adequate stocks of medicine and max.
According to him, vaccination of 15 to 18 year olds is in full swing in Tripura. About 77,000 have already been vaccinated. In addition, about 48,21,906 doses have been given to those above 18 years of age. He says vaccination can help keep people safe.
He also warned that everyone should abide by the mandatory corona sample test order to enter Tripura. If that order is disobeyed, it will not be accepted in any way. 
He expressed dissatisfaction, saying that some passengers had recently made unnecessary fuss over the corona sample test and request all of them to cooperate to keep the situation normal.
On the same day, he sent a strong message to the traders, saying that the price increase would not be tolerated under any pretext. Tripura has adequate material reserves. Therefore, the administration will strictly suppress the exploitation of the people by black marketing.