As China courted the nation, the price of gasoline in Bangladesh increased, causing instability and reigniting fears that the Sri Lanka crisis could repeat itself in India's backyard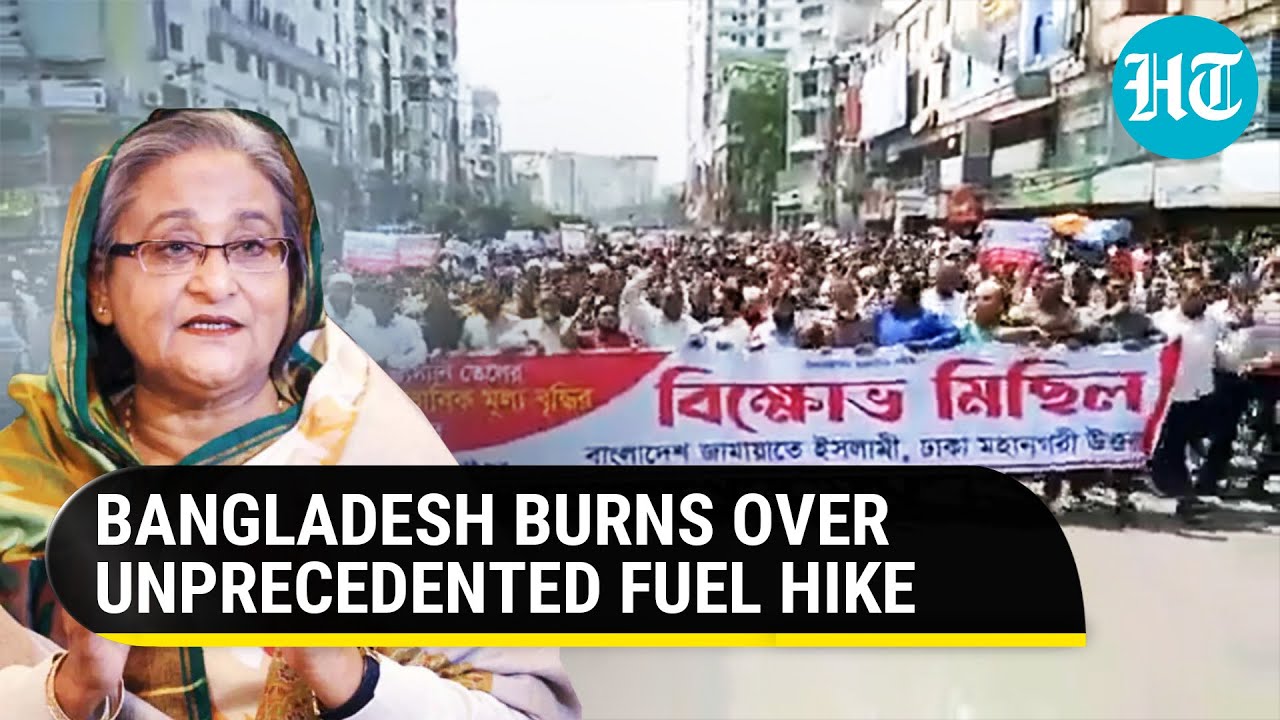 The Bangladeshi government increased the price of gasoline by 51.7% and diesel by 45.2% on Friday, August 5, just days after making vague references to an approaching economic disaster.
Nasrul Hamid, the minister for power, energy, and mineral resources, said this in response to the issue: "Some modifications need to be made in light of the current international scenario. In the event that things return to normal, fuel prices will be adjusted. Not everyone will find the new prices bearable. We had no other alternative, though. People must exercise patience.
Already, the nation is suffering from extremely high inflation. According to reports, Bangladesh's inflation rate has reportedly exceeded 6% for the last nine months, peaking at 7.48 per cent in July.
Bangladesh's foreign exchange reserves have significantly decreased despite having one of the world's fastest-growing economies. It had only $39.67 billion in foreign reserves as of August 3, 2022, which is just enough to cover 5 months' worth of imports.
Long lines at fueling stations, violent protests, and riots in response to the sharp increase in fuel costs have all resulted. Transport costs had increased by 30% as a result of the earlier 23 percent increase in fuel prices in November of last year. Bangladeshis are now preparing for a similar outcome as a result of the government's choice.
Due to consumers having to prioritise buying necessities, the country's garment industry has also suffered greatly from the high inflation rate. This has impacted its exports as well. The second-largest source of Bangladesh's foreign exchange reserves, international remittances, have similarly decreased.
Bangladesh requests financial aid from the IMF and Asian Development Bank
Bangladesh asked the International Monetary Fund (IMF) for 4.5 billion dollars last month to help it get through its current economic difficulties, which were brought on by high imports.
Finance Minister Mustafa Kamal stated, "We'll go for it if the IMF terms are favourable to the country and consistent with our development agenda; otherwise, we won't. The IMF loan request does not indicate that Bangladesh's economy is in dire straits.
He also stated that the nation's macroeconomic situation was stable. Bangladesh has shown interest in the IMF's "Resilience and Sustainability Facility," the IMF has confirmed.
The IMF was ready to assist Bangladesh, and staff members would work with the government to devise a programme in accordance with the Fund's established principles and procedures. The programme design talks will include discussions of the level of assistance.
According to reports, the IMF can provide financial assistance up to $1 billion. Bangladesh has also asked the Asian Development Bank for $1 billion.
China wants to take advantage of Bangladesh's economic difficulties:
China is contemplating extending duty-free access to goods and services that are wholly produced in Bangladesh in an effort to take advantage of the ongoing economic difficulties of another Indian neighbour. The decision is probably advantageous for Bangladeshi exporters of woven goods and apparel.
State Minister for Foreign Affairs Shahriar Alam commented on the development by saying, "It's good news for Bangladesh as we have a growing economy based on exports. 98 percent of the goods we exported to China were already duty-free.
"Like any other bilateral trade, the remaining 2 percent has been significant and delicate," he continued. From September 1, they will grant duty-free entry to 1% more people.
AK Abdul Momen, the foreign minister of Bangladesh, and Wang Yi, the foreign minister of China, met separately on Sunday to discuss the issue (August 7). China is interested in establishing industries and offering technological assistance in Bangladesh's Anowara upazila, which is part of the Chittagong district.
Additionally, the two nations are anticipated to sign an agreement on public-private cooperation, develop strategies for boosting aerial communication, and discuss foreign direct investment (FDI). According to reports, China has pledged to support efforts to resolve both Myanmar's domestic problems and the Rohingya situation.
Four state-owned Chinese enterprises had previously showed interest in helping to develop Chittagong's "Smart City" and metro train system. China has a reputation for pushing developing nations into debt by providing funding for infrastructure projects that have little to no chance of becoming profitable.
Bangladesh is currently reasonably safe, but if the Sheikh Hasina administration can't control inflation and the ensuing turmoil, things could get out of hand. Then, it will be difficult for India to support both Sri Lanka and Bangladesh at the same time.
The conflict in Sri Lanka:
Since winning independence from Britain in 1948, Sri Lanka has faced its worst economic crisis, with inflation reaching a record high of 54.6 percent in July 2022 as compared to the previous year.
The inhabitants of the island nation are severely gassed for food and cooking fuel. Large fuel lines and frequent power outages may be seen all across the National Capital.
When tourism, the island nation's main economic driver and a major victim of the coronavirus outbreak, was badly impacted, the issue was made worse. Many imports were restricted because the government lacked sufficient foreign reserves.
Long-lasting power outages and blackouts were the result of this. The government of Sri Lanka declared a default on USD 51 billion in foreign debt in April. India has pledged support to the island nation of Sri Lanka amid its economic crisis.
The purchase of 40,000 tonnes of diesel will be paid for with a $1.5 billion credit line from India. Sri Lanka also asked for an additional $1 billion in credit to cover imports.